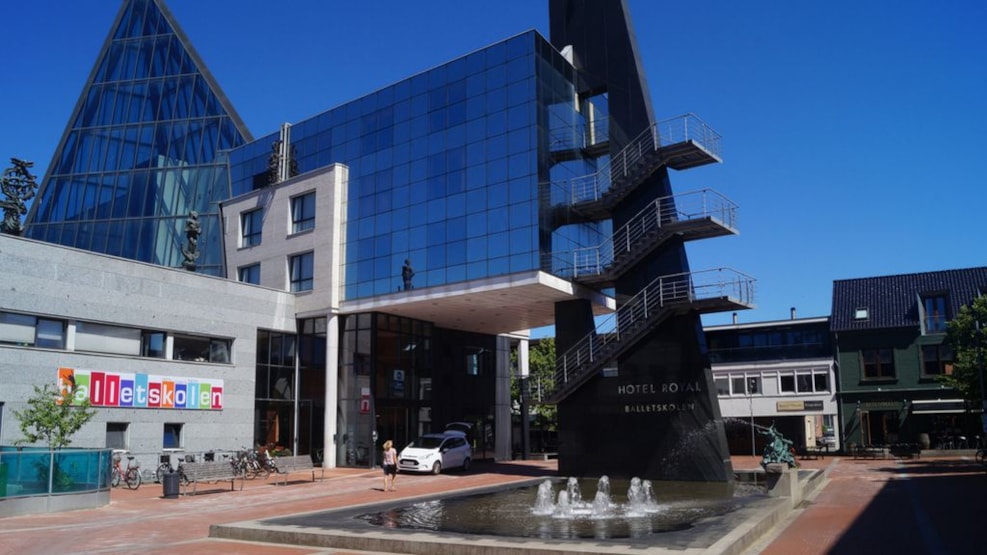 Green Experience
Best Western Hotel Royal Holstebro
Best Western Hotel Royal is centrally located in Holstebro, close to the pedestrian streets, Big Bio, the Music Theater and restaurants.
The hotel offers weekend stays with various themes, such as gourmet, getaway with wellness, golf and biker stays.
Best Western Hotel Royal is a modern hotel with 40 large, lovely rooms located on the 2nd and 3rd floors with a view of Storå and Holstebro center.
Our landmark is the 27 meter high glass spire, which is adorned with the sculpture The Sun Wagon - part of the Tobacconist's Dream. You can find several works on, in and near the hotel building and the Red Square in front of the hotel. 
Dogs are welcome
Dogs are welcome at Hotel Royal. A short walk from the hotel there is a dog forest and beautiful and versatile nature - the perfect setting to air your dog. Book your stay with dog here.
Breakfast
We are very aware of allergens and gluten-free products. In the hotel's breakfast restaurant you will find a separate section with gluten and lactose-free products. Vegans have the opportunity to make their own porridge with different flavors.
Silver mark in ecology
We are very proud that 60-90% of all ingredients purchased for the hotel's breakfast are organic. All coffee, tea, juices, rolls, vegetables, cheese, butter, milk, soft-boiled eggs and scrambled eggs are some of the basic ingredients that you can always be sure are organic.
The hotel's home baking
Every morning we bake homemade buns and make delicious ginger shots with vegetables and various smoothies you can kickstart your day with. We also bake homemade Stone Age bread and make muesli from scratch.
VisitNordvestkysten © 2023