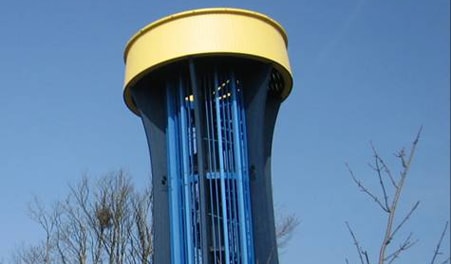 Bellevue observation tower
At Bellevue, which is situated at Hjørring Bjerge (hills), there is a 69-metre high tower from which you can enjoy a magnificent view of the western part of Vendsyssel and Jammerbugten (bay).
From the top of the tower you can clearly see the plains surrounding Hjørring. Bellevue is not only the highest point of Hjørring Bjerge, but also of Hjørring.This landscape was once the sea floor of an arctic ocean, which was created when the inland ice melted 10 – 15000 years ago. Hjørring lies on a moraine formation that used to be an island in this arctic ocean. Other moraine islands formed at the same time are Vinstrup Bjerg (hill) and Ilbjerg east of Hjørring and Vennebjerg and Rubjerg Knude west of Hjørring.


The first observation tower was an old windmill, but in 1915 a 9 meter observation tower was constructed in wood. The current tower was designed by Knud Borre Jakobsen and built in 1965. The tower is built with glulam and measures 14 meter. The tower was renovated in 2004. The top deck is located 80,5 meters above sea level.