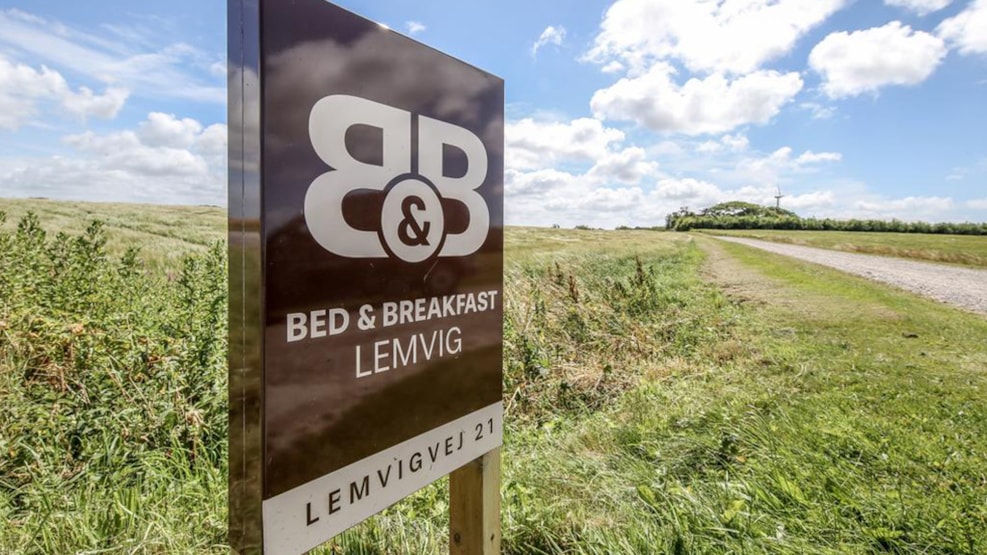 Bed and Breakfast Lemvig
Bed and Breakfast in the wonderful land of hills and waves – only 2.5 km from Lemvig town.
The place is located in quiet surroundings with "high ceilings" and yet, only a stone's throw from town.
Every room is on the floor plan – 2 of them are even handicap-friendly.
Besides this you have access to a large, communal kitchen, which has most of everything in appliances and equipment. Fridge and freeze can be used by guests to store their bought groceries.
In the kitchen are also available tables – often used as work station by the guests. Here is room to work with your own laptop and you can log on to the free Wi-Fi. You are of course also welcome to enjoy breakfast, lunch or dinner in the kitchen at the tables.
There is a TV-corner with a SmartTV with Netflix access. In the common room are also books, magazines, paper to draw on, puzzles and board games – all free to use. In the large, communal bathroom, you have access to a washing machine, dryer, baby tub, drying rack, iron and ironing board.
The indoor area is smoke-free, but outside is a 15 m2 covered shed where smoking is allowed. There is also a terrace with a view of Lemvig town and the Limfjord.
Dogs are very welcome. The bed and breakfast also offer a yard for the dog.
Bed and Breakfast Lemvig has a total of 4 rooms (approx. 20 m2) and 1 apartment (approx. 70m2).
VisitNordvestkysten © 2023