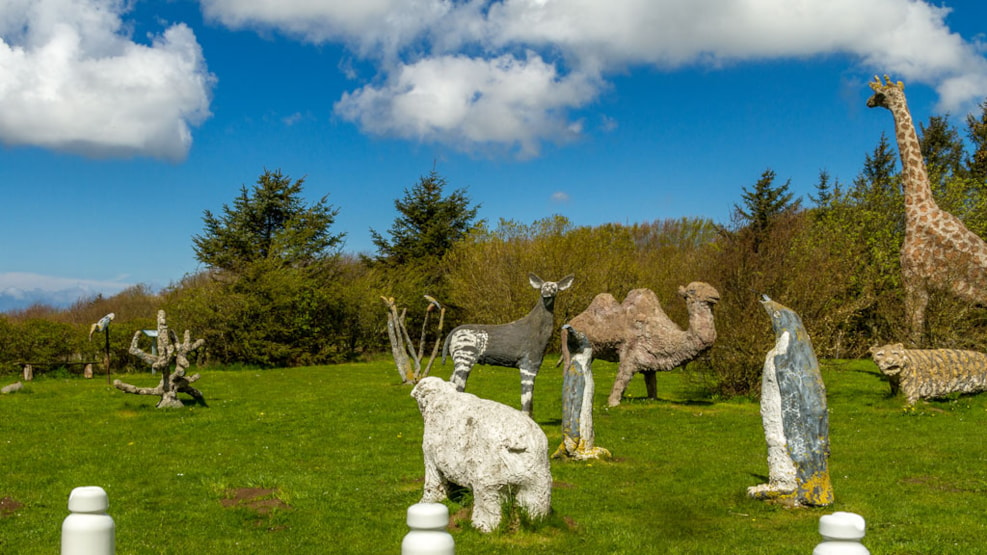 The Art route "Kunstruten Bjergby - Mygdal"
The Art route "Kunstruten" in Bjergby and Mygdal

The towns of Bjergby and Mygdal are situated on a foundation of moraine landscape dating back to the Ice Age.
Surrounded by beautiful nature the cities offer plenty of possibilities for immersion and delightful experiences in the open air.
By following the route "Kunstruten" you can experience different art sculptures and nature areas. One of the sights is the interesting Sculpture Park "Peterspladsen" which shows different art animals made by the local resident Peter Jensen known as "Danmarks-Peter". Elisabeth Jørgensen has created the sound piece "Langs Stien" for a 3 km. marked route. The old Manor "Odden" is also situated in this area with an impressive collection of J.F. Willumsen works. Local craftsmen and artists have furnished the old convenience store to a display and sales place for their different artworks.
You can find further information on the "Kunstruten" at Hjørring Turistservice.