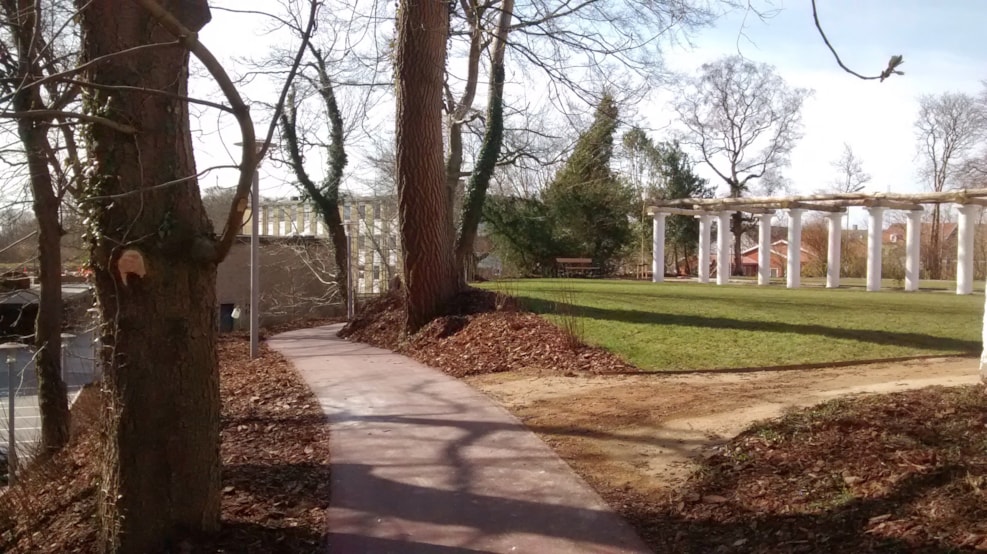 Amtmandshaven
The large beautiful county garden was probably built in the 1820s. Originally, several similar gardens were in Hjørring, but the garden at the county office is the only one that has been preserved.
The treasures of the graden are the small gazebo as well as a pergola with efeu. In front of the residence is a small area with grass and trees where you can enjoy your lunch or just relax in the beautiful surroundings.
From the garden you have a view of the beautiful "Amtmandsbolig" which was designed by the neoclassical architect Hack Kampmann. The building is an elegant representative of Kampmann's time as a royal building inspector in northern Jutland from 1892 to 1920.
The county residence was completed in 1910 with the two side wings and the domestic wing to the east which is listed as one house. Shortly after, another administration wing was built to the west.
In 2014, the building was renovated, but with the same building style preserved. In addition, the garden has become more open and inviting.
If you want to know more, you can read the book "Amtsmandsboligen i Hjørring" written and published by Realdania Byg. The book also contains an excerpt from another book "It Was Another Time", in which Bente Simspon talks about what it is like to be a county man's daughter in her late 30s and early 40s.
VisitNordvestkysten © 2023