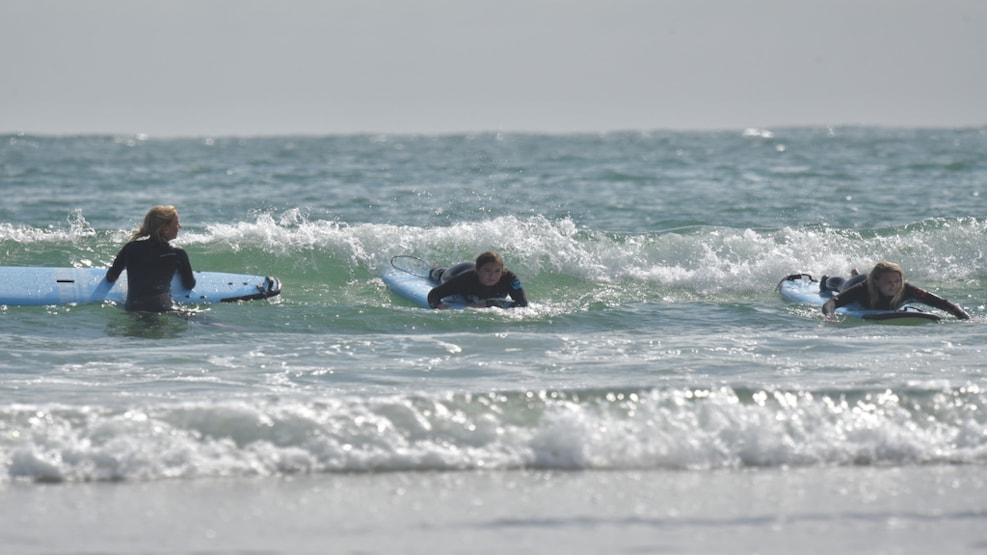 Agger Surf & Events
In the southern part of Cold Hawaii, between lake, fjord and sea, you will find Agger, an old fishing village that offers excellent opportunities for most water sports.
Agger Surf & Events is perfectly located in National Park Thy and offers the opportunity to try everything from wave surfing, SUP surfing, fishing, underwater hunting, kayaking, canoeing in the river and to oyster and mussel hunting.
Agger Surf & Events can be found in the southern part of Thy National Park, very close to the good waves of the Cold Hawaii coast. At Agger Surf & Events you can get guides, teaching and advice for most activities in the area. Stop by the shop in Agger or call and find out more about Agger Surf & Events

Surf school
Surfing is insanely fun, whether you are a beginner or a practitioner. The experience in the waves is so intense and gives so much regardless of level. SUP (Stand Up Paddle) surfing is a fantastic and relaxing way to experience calm water as well as smaller waves from the fjord, lake, river or sea for both children and adults. SUP surfing is popular for many reasons and is the perfect way to start water sports regardless of age and level. Agger Surf & Events offers courses and rentals in all conditions, both for beginners and more experienced in all kinds of conditions around Agger.
Underwater hunting
At Agger Surf & Events you can also try underwater hunting with a harpoon (hunting license is not necessary). Call Jan on +45 20357 652 for more information, availability and weather forecasts.
Agger has excellent conditions for snorkeling and harpoon fishing when the weather and water conditions allow it. Quiet days with offshore winds or no wind cause the particles in the water to fall all the way to the bottom, and the good visibility allows for a fantastic experience underwater. Agger's hips abound with fish and crustaceans such as mullets, sea bass, flatfish, lobster, crabs and a variety of other marine plants that are as beautiful as coral reefs when the water is clear. The security is top notch and the teams are small, so you can safely take Agger Surf & Events out into the blue.
Opening hours
Monday to Sunday from 10:00 to 17:30. Depending on the weather, there are more often longer opening hours.
VisitNordvestkysten © 2023