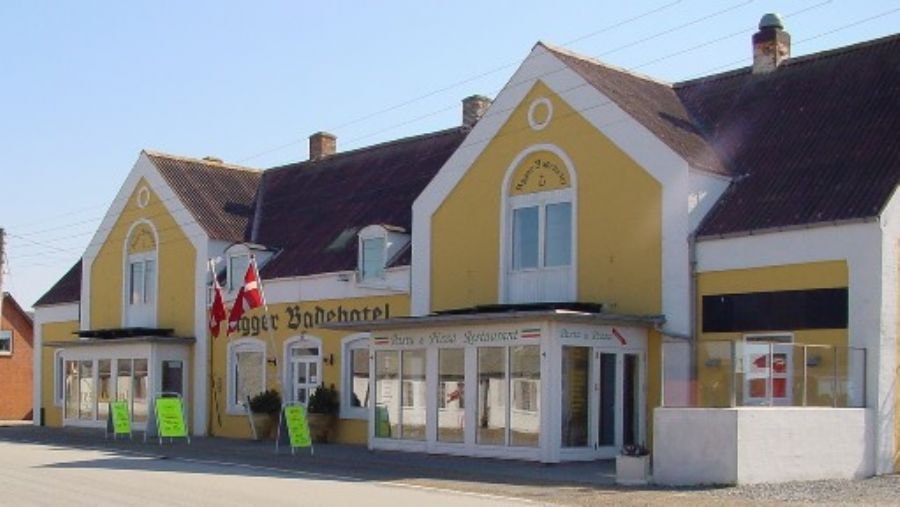 Agger Badehotel (Seaside Hotel)
Agger Badehotel wurde 1904 erbaut und ist seitdem Aggers Badehotel mit Dünen und Nordsee im Hinterhof.
Mit weniger als 100 Metern zu den Dünen ist das Hotel perfekt für Ferienaufenthalte im malerischen Agger.
Welcome to Agger Badehotel
The hotel was built in 1904. It is a large beautiful building - painted in yellow and white colors, 2 large glass bay windows welcome them inside. There are many options here. In the tastefully decorated restaurant there is room for approx. 60 dining guests.
Here, the menu consists of many exciting dishes.
In particular, our plaice and our beef have given reputation far and wide.
In the middle of the hotel as a unifying center is the hotel's covered courtyard. Here you experience an almost southern atmosphere with large green plants and a pleasant sound of fountains. Covering and heating means that you can experience a summer atmosphere here from April to November.
A real family hotel
The rooms have different decor, i.a. there is a family room with alcoves and sleeping space for 3-4 people. There are 10 double rooms with private shower and toilet. In the old part of the hotel there are 13 rooms. In the immediate vicinity of these rooms there are 4 bathrooms.
Agger is surrounded by lake, sea and fjord, so if it is not bathing weather, the experience possibilities are many.
Long walks and angling trips are just a few of the opportunities Agger offers.
VisitNordvestkysten © 2023