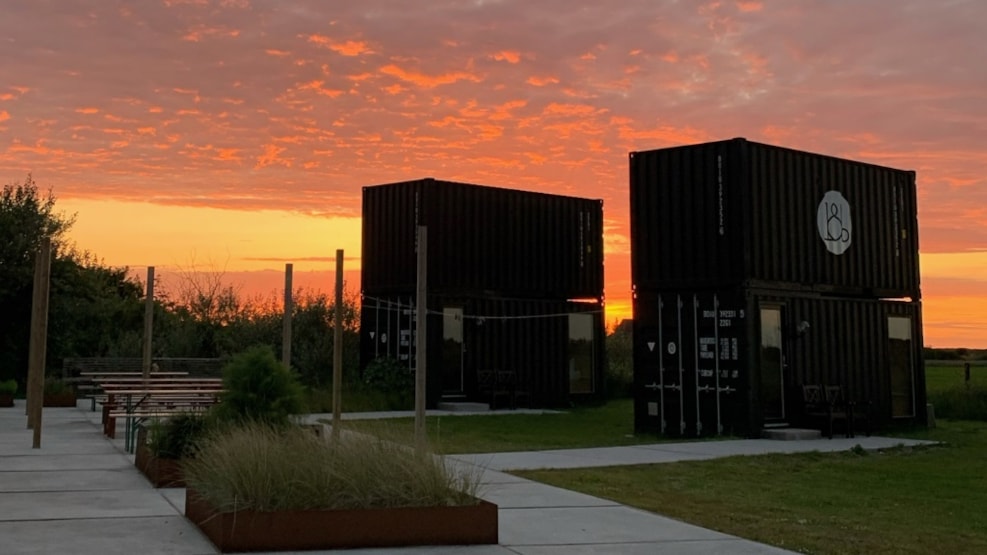 18 B - Private Accommodation
House of culture 18B in Harboøre offers a unique experience with accommodation in two container houses.
At Hygumbakke, 5 km from Harboøre, you suddenly discover why someone can decide to live so far away from the big city. You see the North Sea, flat and windswept landscape, and you can already sense tranquility. When the GPS finally calls 18b, you meet me (or a sweet message from me) and see four containers that look strange but beautiful against wind and nature. The beds are made, and from now on you can relax.
Actually, you can stay inside in the fine scenery for the rest of the weekend, they asked 20 meters over in 18b in between, but otherwise see it all sheltered inside. But you have to go out at some point, out and feel how it blows out here. You must go up and greet the sea. And if you are lucky, there is clear sky in the evening / night, and you can lie inside the container and look up at the wildest starry sky.
18b is a combination of very fine, including two beautiful container houses. So if you are into something unique, something windswept, something accomplished and days of tranquility with beautiful scenery, then 18b is the place for you. The whole glory is located in Harboøre, a small but beautiful town, 2 km from the North Sea.
All the practicalities
The houses are two shipping containers stacked on top of each other. The container houses contain a double bedroom on the ground floor. A sofa that serves as 2 beds on the first floor. A total of 4 beds in total.
The rooms are connected and open to the first floor. Note that the stairs to the first floor are a loft staircase and therefore not suitable for people with walking difficulties.
The ground floor is furnished with a table with 2 seats. On the first floor you have a beautiful view of a windswept, flat and beautiful piece of West Jutland nature.
Bathroom, kitchen, dining table and a large living room you will find in the "18b main building" 20 meters from the container houses. You must share these facilities with guests in the other container.
Cleaning and bed linen are included in the price.
VisitNordvestkysten © 2023