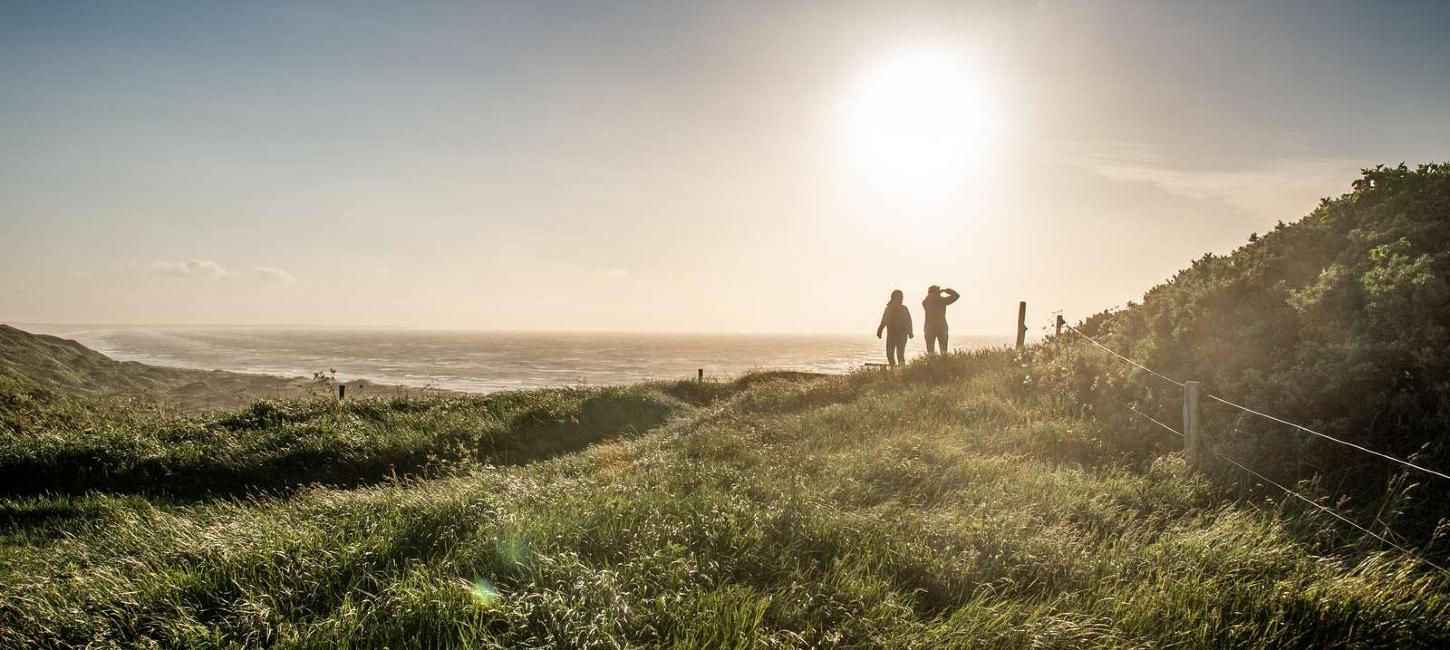 Experience the magnificient view from Svinkløv Camping
Photo:
Destination Nordvestkysten
Start your experience at Kystsporet from Svinkløv Camping. It guarantees a magnificient nature experience in the Svinkløv plantation right next to the North Sea. Stay in their pretty newly renovated cabins and enjoy the evening with a great bottle of wine from the site's own selection.
You can, amongst others, take the beautiful hiking tour along Kystsporet, Hærvejen and Nordsøstien to again arrive at your cabin.
Svinkløv Camping has everything you need if you and your family want to have a cosy holiday. Whether you want to have a tent trip, a classic camping vacation or you want to spend the night in a cosy camping cabin. Five of the cabins at Svinkløv Camping have their own toilet and bathroom and all are equipped with an own kitchen.
Whether you want to have a completely relaxing vacation or would like to go on long walks in the nature, here you can live really close to the nature. As a guest at the camping site you will have the North Sea as your neighbour.
Enjoy the sunset from the camping site's high location in the landscape close to Svinkløv Plantation or go on a trip in the nearby Kollerup Dune Plantation with a variety of labelled routes. It is completely accessible both by foot and on the bicycle. There also are particular mountainbike trails in both plantations and the terrain should strengthen your tigh muscles!
Svinkløv Camping offers many unique things in their little camping store. Here you can buy outdoor clothes or new quality equipment for the hiking tour with the family.
PRICE
Cabins (2 people)
Spring 02/04-26/6: 475,- kr (Mon-Thu), 575,- kr (Fri- Sun)
Summer 26/6-7/8: 625,- kr (Mon-Thu), 725,- kr (Fri- Sun)
Late summer 7/8-29/9: 475,- kr (Mon-Thu), 575,- kr (Fri-Sun)
Final cleaning is mandatory 275,-
Wine´O Clock
Take your vacation here or drop by for a good glass of wine on your trip along Kystsporet. The owners of Svinkløv Camping are experts in wine and have a great camping shop, where they serve good ice cream,  qualitative wine, convenience goods and coffee to go as well as a variety of other local specialities - amongst other, local honey and jam/cookies etc.
On a daily basis we operate the wine business Vin & Vin at Vestre Allé in Aalborg, which reflects the selection you can get in the shop at the camping site. Here you can buy a wide choice of wine and various charcuterie, that can be enjoyed on our terrace" - Svinkløv Camping