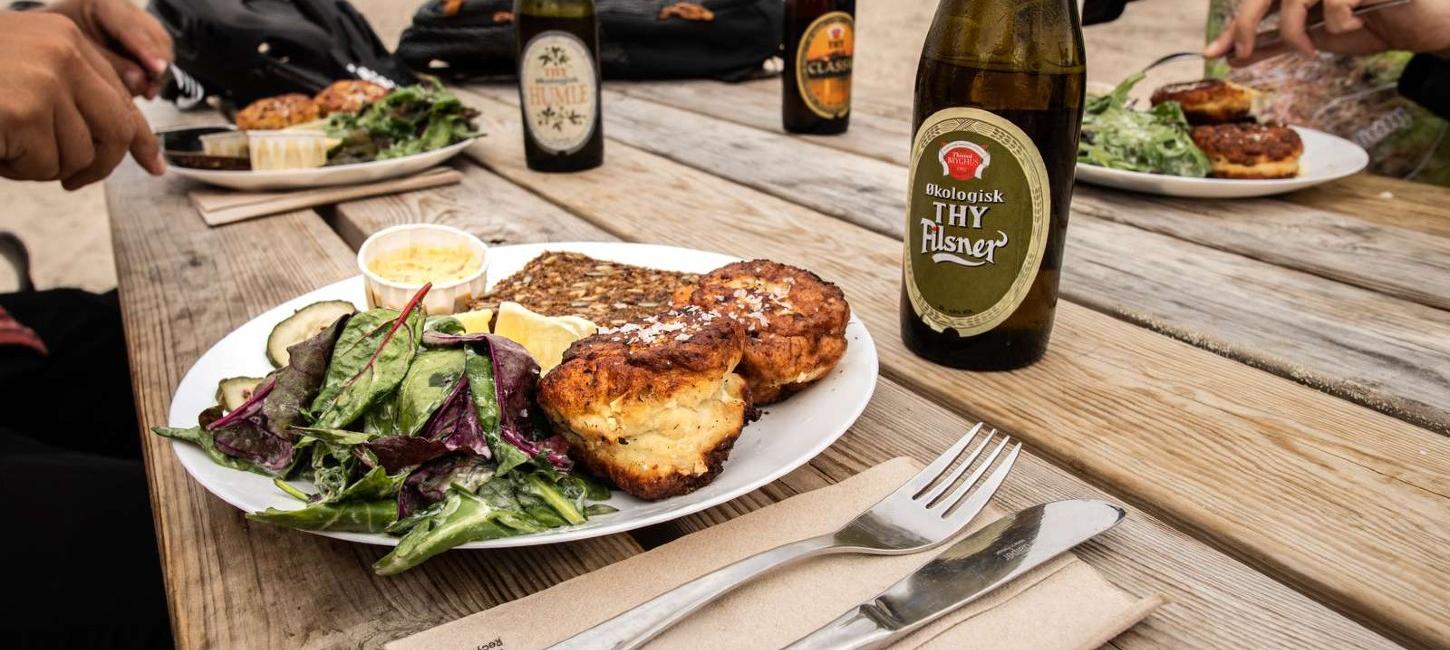 Denmark's best fishcakes in Thorupstrand
Photo:
Destination Nordvestkysten
Right in the middle of the route Kystsporet is the charming Thorupstrand located, which is known for the TV show "Gutterne fra kutterne" (eng. "The guys on the cutters") in Denmark.
At the beach you find Denmark's best fishcakes at Thorupstrand Fiskehus. Here they only work with local and fresh ingredients. Eat your lunch or dinner in the moderate breeze from the North Sea and the view over the characteristic blue fishing cutter.
In a windy courner of Denmark down at the beach you find Thorupstrand Fiskehus - which is both a place to eat and fishmonger's. Here you find nature-gently caught fish, simple fish dishes and local specialities.
Choose from a small but fine menu, where fish is the main ingredient. You can enjoy the nature-gently caught fish and the organic ingredients on the spot. Enjoy the variety of local specialities and eat you lunch with your feet in the sand while looking at the North Sea and the blue cutter. If it is too windy, you can make yourself comfortable on the first floor in the Fiskehus.
As something new you can also drop by the new beach bar Revlen, where you can enjoy a cold draught beer from Thy, G&T's and Cava - and that until the early autumn. Furthermore, you can try the delicious fish burgers or something else of the tasty menu. Note that only local products are served here.
Fish, events & music
Remember to purchase fresh fish for dinner or have a break from the daily cooking and take Fiskehus's home-made dishes and delicacies with you as take-away.
Keep an eye on events at Revlen and Thorupstrand Fiskehus and participate in cutter concerts on the beach or sign up for a filleting workshop at Fiskehus.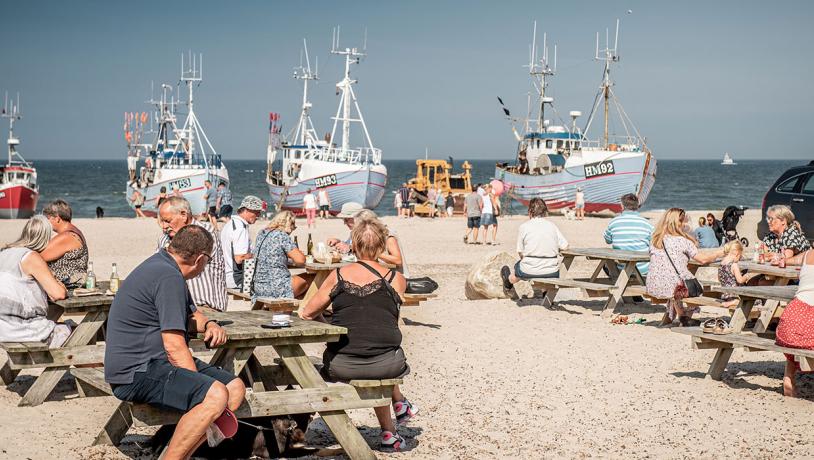 Photo:Destination Nordvestkysten
Take a packed lunch with you when you pass Thorupstrand Fiskehus
When you pass by Thorupstrand remember to stop by Thorupstrand Fiskehus at the beach. Here you can pick up a tasty packed lunch, which you can take with you on your further tour and enjoy where and when you get hungry and find a beautiful view. Thorupstrand Fiskehus offers a delicious fishcake sandwich with a beer of your own choice or water for 75,- DKK.
VisitNordvestkysten © 2023