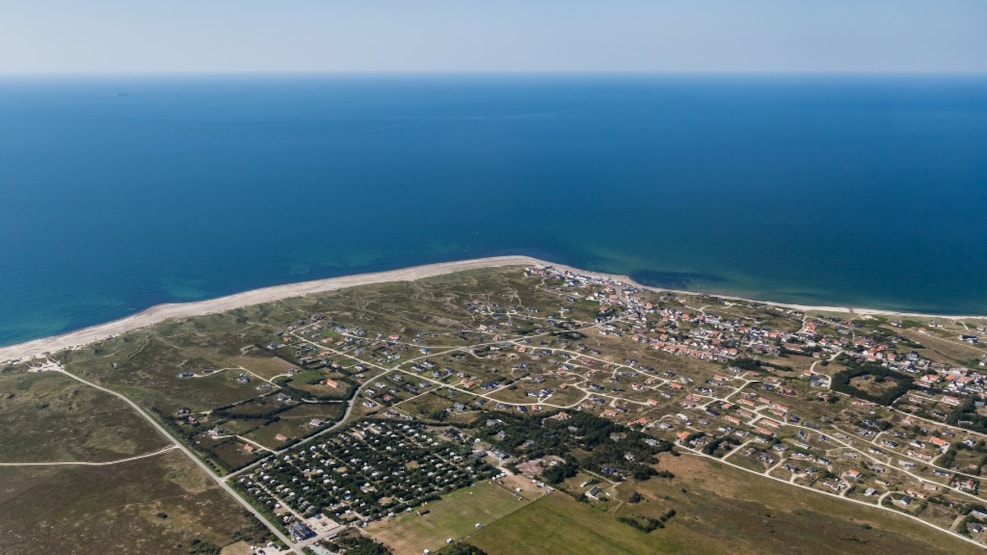 Nystrup Camping Klitmøller
Only 500 meters from the North Sea and right in the middle of National Park Thy is Nystrup Camping Klitmøller.
A campsite with 350 well-equipped units spread over a large open surf camp and screened "caves" for your motorhome or caravan as well as a large selection of cabins with space for two to six people.
Find the device that suits you on the site overview here.
At the campsite you will meet everything from surfers and families with children to pensioners, golf and hiking enthusiasts, and in the campfire hut or around the campfire sites, everyone gathers in wonderful association and contributes to the informal and cozy atmosphere that characterizes Nystrup Camping.
Despite the campsite's location close to the sea, the site's many green shrubs and trees provide remarkably much shelter and a (perhaps) much-needed break from the gust of wind when the day is over.
Real outdoor life with a luxurious twist and a glamping experience you will soon forget.
A simple visit to Klitmøller and you will be enchanted by the area's charm, wild nature and endless beaches - a magical place in magical surroundings.
Whether you are looking for a refuge, a romantic getaway or just want a unique setting for an unforgettable holiday in the middle of nature, our luxury tents in Klitmøller are just the thing for you. With its location right next to National Park Thy and only a few hundred meters from the North Sea, glamping in Klitmøller is not only a breath of fresh air (literally!), But also a chance to upgrade your camping holiday and try something new.
Activities and experiences in Klitmøller
Klitmøller is as created for nature lovers of all ages. Here are beautiful views as far as the eye can see and a myriad of options for you who want an active holiday in North Jutland's unique nature. Choose, for example, between one of National Park Thy's many cycling and hiking routes, a brisk round of golf or a trip in the North Sea along Northern Europe's best surfing area, Cold Hawaii.
The location of Klitmøller means that the area's nature experiences are often connected to the sea. Especially surfing and sea kayaking are very popular, but a trip in the unique dune landscape, to the historical sights and the cozy old fishing village will no doubt complete your stay in Klitmøller.
Fortunately, Nystrup Camping Klitmøller is a short distance to everything, and the many trails and marked routes in the area make it easy and safe for children and adults to get from A to B.
Activities for children and playful adults
At Nystrup Camping Klitmøller, the children - big and small - have also been thought of. Here you will find a large, well-appointed playground with both a climbing frame, balance track, swings, slide, sandbox with its own graveyard and the always popular bouncy castle.
In addition, you can also look forward to:
• A ride in a mooncar or go-kart
• A nice game of mini golf or petanque
• A visit to the animal fold, where the domestic and cuddly goats live
Look forward to experiencing Europe's surfing paradise Cold Hawaii, the area's wide beaches, cycling and hiking routes along the sea and in the dunes, an active artist environment and freshly caught fish at one of the city's cozy restaurants.
Klitmøller has it all!
VisitNordvestkysten © 2023