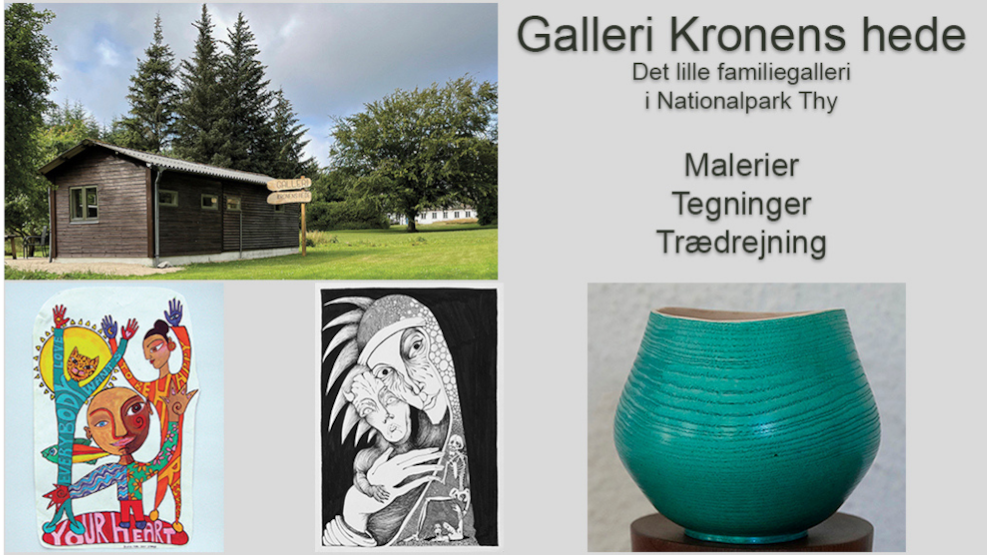 Gallery Kronens Hede
The Little Family Gallery in Nationalpark Thy
If you are on a trip to the National Park, try to lay the tour around Kronens hede north of Vang and visit our little gallery. It's small, but we aim to make the exhibition good.
Ernst Kempf shows his woodwork, preferably turned in local wood. It's handicrafts, jewelry and utility items.
Suzette Hugo Kempf, his daughter, exhibits her paintings and cuttings, happy, colorful and imaginative.
Katinka Olrik, his granddaughter makes drawings and cuttings, critical to our society and our way of life.
If your goal is to visit our exhibition, you will at the same time have the opportunity to see part of our lovely national park.
Ernst:            
Mobil: +45 6062 4242
Web: www.thydrejer.dk
Instagram: thydrejeren
Suzette:         
Mobil: +45 2170 5299
Web: suzette-kempf.dk              
Katinka:          
Mobil: +45 8140 5027
Instagram: katinka.olrik 
Opening:
We are open all year round from 9am-5pm, but only when we are at home.
Therefore, preferably call ahead on +45 6062 4242 or send a mail.
VisitNordvestkysten © 2023