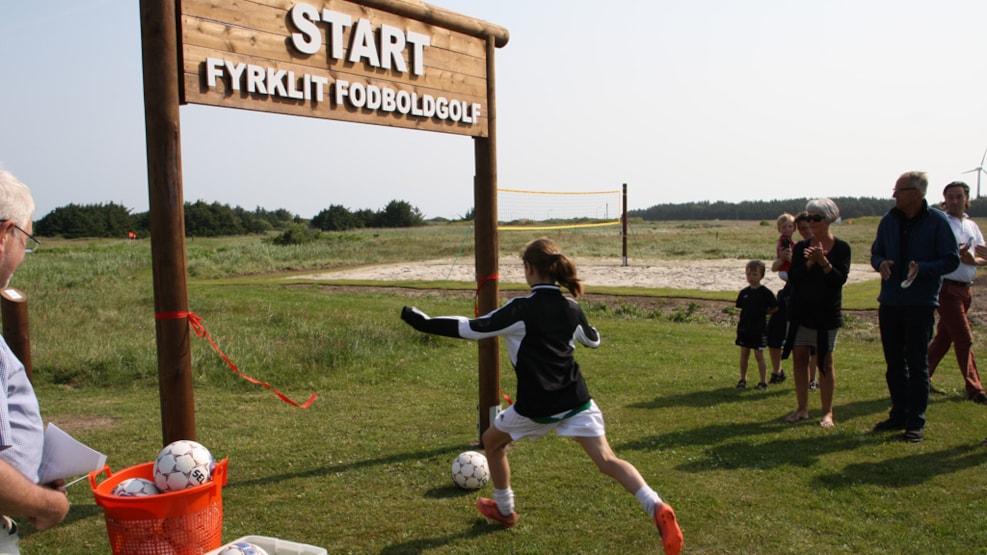 Soccer Golf at Landal Fyrklit
Take up new challenges and try Football Golf at Landal Fyrklit. You don't have to be trained, it's fun for everyone!
Landal Fyrklit Soccer Golf
Do you dare to challenge the horror of the golf course? And do you find it funny kicking the football at the turf? Then the new craze Soccer Golf has also found its way to Hirtshals at Landal Fyrklit Soccer Golf.
On the new Soccer Golf court at Landal Fyrklit Holiday Resort the two popular games are combined and becomes a new and funny game for both children and adults in all ages.
Here you are given the opportunity to play 18 holes in the beautiful landscape with dunes and practice your kicking technique, when you have to kick the ball past all the challenging obstacles on the court. And don't worry. You don't have to be an experienced golf player or the new David Beckham to play and have fun. Here nobody have to sit on the bench. Everybody can join the game and have fun irrespective of age and experience. 
So challenge your friends and family and see if you can kick a Hole-in-one.
Tickets can be bought at the reception.