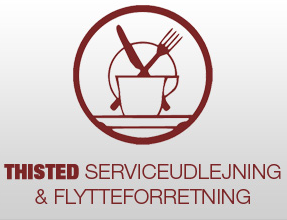 Service Rental & Removal Company in Thisted
Rental of service, tents etc. and moving business.
Thisted Rental Service began in 1947 and since then we have been among the leaders in the Central and West Jutland, for service rental. Thisted Service Rental was acquired by Birgitte and Flemming Andersen, in January 2001. As owners, it is our goal to continue the high quality and service, that Thisted Service Rentals & Moving Company is known for.
Thisted Service Rental has a capacity of approx 8000 covers (people) , so no party is too small... or too large. You can choose from royal gala dinners, corporate parties and private parties, to birthday parties, garden parties or small coziness companies.
In our large selection of rental effects, we have: white porcelain, white porcelain with gold, cutlery stainless steel or silver, several different kinds of glassware, cookware, silver platters, candlesticks, coffee makers, inflatables, rodeo bull, sumo wrestler costumes and much, much more.
You are always welcome to stop by our showroom and shop.