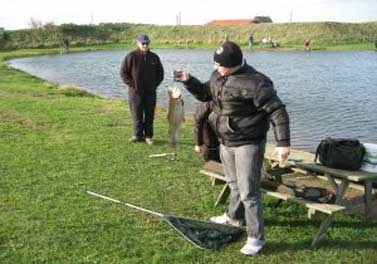 Put and Take Vejlby
Vejlby Put and Take lake is 5000m2 large close to the North Sea. The lake is well sheltered behind the dikes.

We have good access conditions and parking, toilet, information and payment point as well as a playground for the children.

The fishing lake is open from sunrise to sunset all year round.

We release rainbow trout and brown trout of 1 - 5 kg several times a week.

Around the lake there are shelters and tables / benches where the family can enjoy their brought food.
Dogs are welcome at Vejlby Put and Take if they are led on a leash.