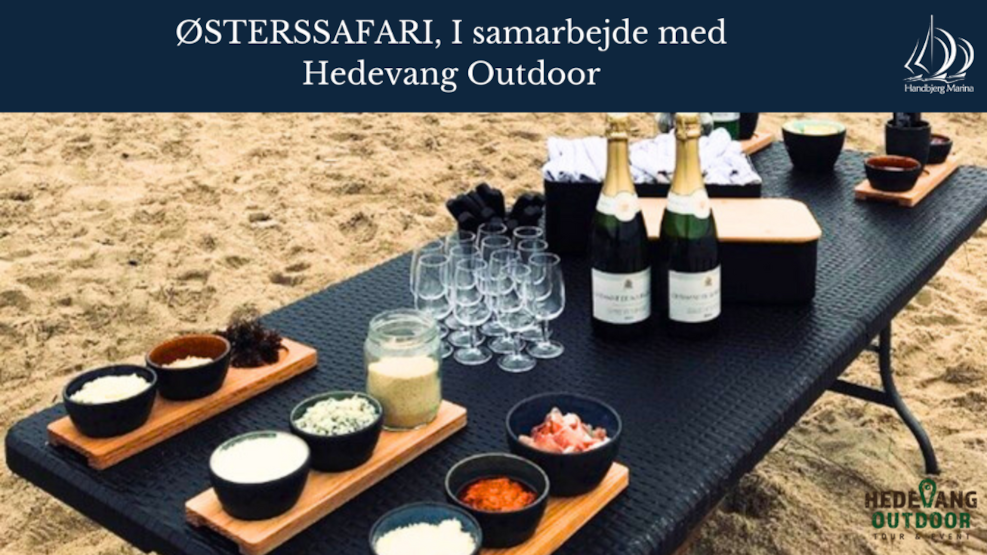 Oyster Safari at Handbjerg Marina
In search of the Limfjord's cheekiest and tastiest shellfish. In collaboration with Hedevang Outdoor.
Wearing waders and armed with fishing nets and buckets, you will go on a safari in the western part of the Limfjord.
Once you have been equipped with waders and fishing gear, you will receive thorough instructions on fishing rules and fishing times. Your guide also generously shares his extensive knowledge of the special animal.
Then we drive together to the nature guides' "secret place" where there are millions of Pacific oysters - but also a few of the exclusive "Limfjord sisters", which have been voted the world's best oysters. On our trips we have a catch guarantee, and we promise that there is enough for everyone.
When the catch is brought safely ashore, it is on the beach for an oyster feast.
Here you get expert guidance on opening oysters, and you get plenty of tips and tricks to ensure that the quality is good and that your oysters are safe to eat.
On our oyster trips, oysters are always prepared in at least 6 different ways – 3 raw varieties and 3 that need a trip on the grill. The experience can be washed down with cool, bubbly champagne.
We promise that "De ka' li' oysters" after 3 hours of West Jutland wilderness luxury.
You must bring:
Warm and practical clothes (for example, thick socks and ski underwear)
An extra set of dry clothes in case of an accident
Space in the car for the bucket you get from Hedevang Outdoor
Can we brag a little?
Hedevang Outdoor stands with its roots well planted in the Jutland soil and is not much for boasting, but when we believe that we do perhaps the country's best and most exclusive oyster safari, there is no reason to shut up!
We have loved oysters since the first hunting trip in the fjord in 2013, and we now have over 200 events with the small shelled animal on our conscience. So we would really like to organize the next safari or oyster event for your group.
VisitNordvestkysten © 2023