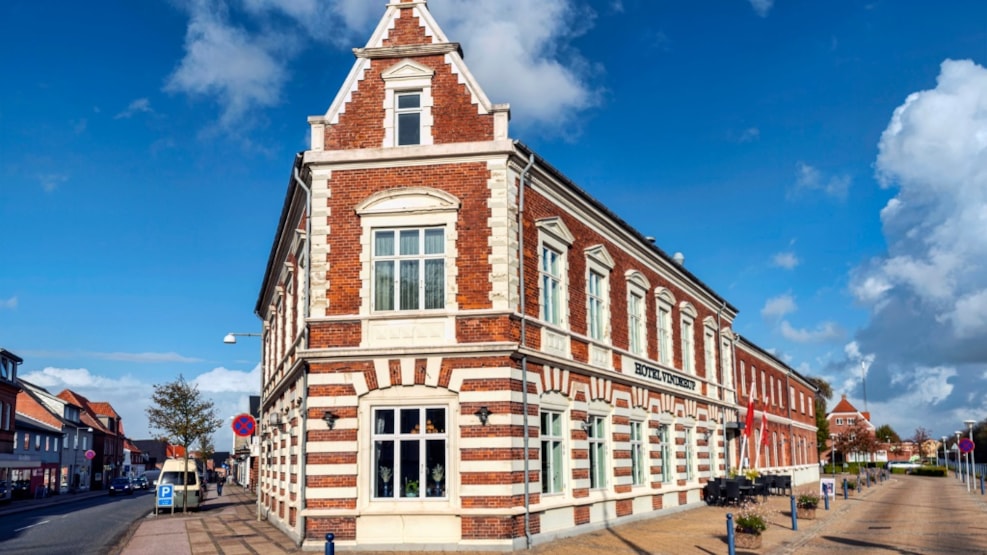 Hotel Vinderup
Hotel Vinderup is a cozy hotel in the heart of Vinderup, built back in 1904.
The hotel has 16 rooms, both single and double rooms and one suite.
All our rooms have their own toilet, shower, TV and Wi-Fi. It is possible to make coffee / tea in the rooms. All rooms are non-smoking.
Hotel Vinderup is ideal for accommodation, parties, meetings and more.
As a guest, you can have both lunch and dinner during your stay.
Hotel Vinderup is located in the middle of Vinderup town, just a stone's throw from trains, buses and shopping opportunities.
Activities and experiences in the Vinderup area
In addition to beautiful natural surroundings, Vinderup offers experiences and activities at Handbjerg Marina and cultural offerings as a family trip to the Open-Air Museum Hjerl Hede, which shows the Danish development up to the year 1900.
During the schools' summer holidays and Advent weekends, Hjerl Hede is brought to life with over 100 volunteers in old costumes, who populate houses and workshops.
Do not miss a hike in the scenic area with Stubbergård Lake and monastery ruins. There are routes of different lengths and a handicap-friendly plank path.
Handbjerg Marina tempts with lots of activities for big and small and beautiful views of the Limfjord. In Handbjerg Marina's gear bank, the family can rent bicycles, kayaks, pedal boats and more. The playground and the fine sandy beach invite to play. End the day by enjoying a delicious dinner at Restaurant Pavillonen or an ice cream at Café Isbåden.