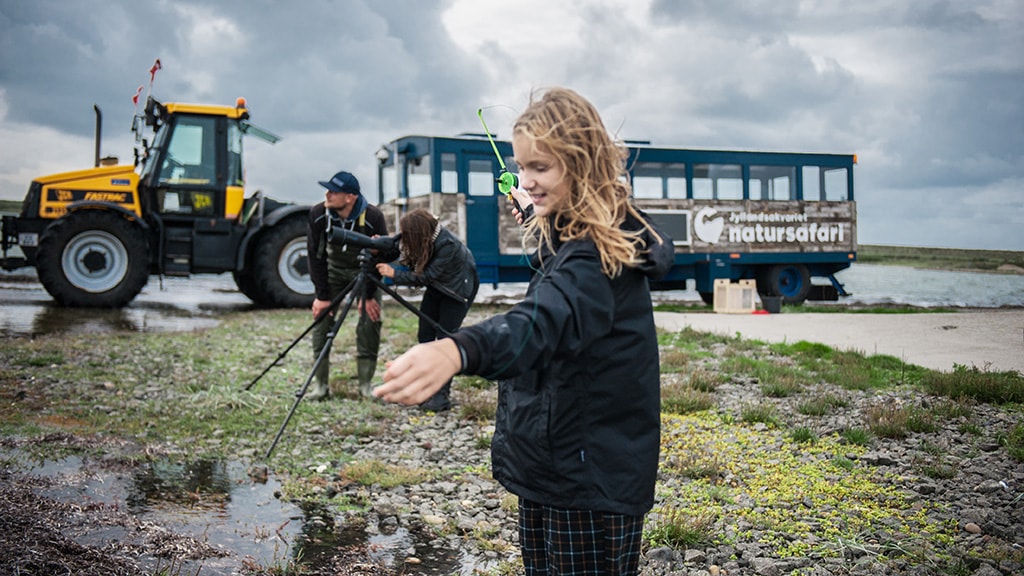 The Fish Keeper's Tractor Tour
Would you like to join us in the tractor bus and catch animals for the Jutland Aquarium in Thyborøn?
Do you sometimes wonder about which animals live below the Limfjord's water surface? Join our fish keeper on his tour and find out.
The scenic area at Thyborøn is teeming with interesting animals and exciting fish. We will take you to the fish keeper's favorite fishing spot and show you how to catch the small animals and fish. Then you can help us catch small animals such as flatfish, crabs and shrimp for the aquarium. We have the necessary fishing gear.
Come visit the animals you helped catch
The fish and animals you help catch on the trip have their very own safari aquarium in the Jutland Aquarium. With entrance bracelets for the aquarium you can come and visit them for a whole week!
If you buy entrance and tour at the same time, we give a 10% discount on the entrance ticket.
Practical information:
Duration: Approx. 1.5-2 hours
Meeting point: JyllandsAkvariet, Vesterhavsgade 16, 7680 Thyborøn
Price: DKK 99 for adults, DKK 89 for children
Dressing: Dressing according to weather conditions - we are outdoors most of the time.
Book your ticket for The Fish Keeper's Tractor Tour here.
 
Experiences in the Jutland Aquarium
In the Jutland Aquarium you can get very close to the many strange and colorful fish species that live in the North Sea and the Limfjord.
- Come, see, stir, follow and help feed the fish that swim around and have a good time in the aquarium in Thyborøn. Here you can read more about Feeding the fish and book your ticket.
- Do you dare to grab a crab or stroke a shark on your back?
In the stirring pools, you can, on selected days, feed on sharks, rays and flatfish. Explore the children's submarine and go amateur hunting on our indoor sandy beach. Of course, you must keep the amber you find.
Don't miss our sharks birth clinic - see shark eggs and the little baby sharks. You can follow their way of life in the aquariums from "birth clinic" and "daycare" until they swim on into the large aquariums.
Explore our children's submarine and go searching for amber on our indoor beach. You may keep the amber you find
Trips in the nature around Thyborøn
Seal Safari: Enjoy the nature from the seaside and see the seals up-close while they are resting on the sand banks when we go on a seal safari in our in our glass boats. Read more about Seal Safari and book your ticket here.
Amber Safari: Have a breath of fresh air from the North Sea on one of our amber safaris – where you get good advice about where, how, and when you can find amber along the West Coast. Read more about Amber Safari and book your ticket here.