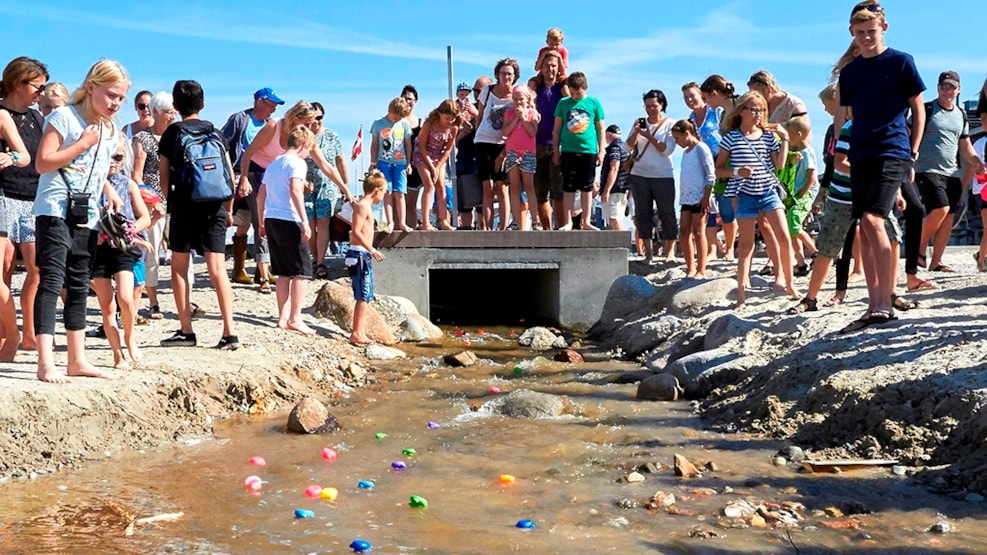 Duck race at Blokhus
Duck race at Blokhus
A fun activity for kids and the young at heart. Near the Fishermen's House, small plastic ducks are released onto the stream, Blokhus Bæk, that flows into the North Sea.
The winner is the person whose duck reaches the finishing line, which is located close to the stream's mouth into the North Sea, first.
The Fishermen's House is responsible for the duck race and commentates on it. The duck race at Blokhus is very popular, attracting lots of interest from both participants and spectators.
Registration
Enrolment takes place up until 2.00pm (at the Fishermen's House), where you can buy the ducks that you want to enter the race for 25kr each. The ducks are numbered and are available in a variety of different colours. The race starts at 3pm.
Each participant gets a small prize and every child can take their duck home with them after the race. The five quickest ducks are also awarded with a prize.
Profits from the duck race go to the Fisherman's House, to cover, amongst other things, the rent.
You are welcome to contact the Fishermen's house, if you're celebrating your child's birthday or another event, and you want this to involve a duck race.